Last week Zagreb was the city chosen to host the NEM Summit 2023, an international conference which is being held since 2008.
This annual event is organised and promoted by the NEM Initiative (New European Media – European Technology Platform) for all those interested in the wide area of media and content creation. 
During this years edition, celebrated on the 24th and 25th of May, the Research & Innovation team of our partner Engineering had the opportunity to explain and describe the use of NFTs from a Metaverse perspective with reference to the activities of DAFNE+ project.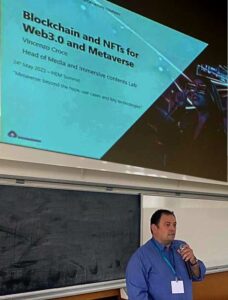 Vincenzo Croce was the one in charge of giving the speech titled Blockchain and NFTs for Web3.0 and Metaverse during the session "Metaverse: beyond the hype, use cases and key technologies", where the most relevant aspects of this pioneering technology were discussed in depth. 
The 14th Edition of NEM Summit was called "Towards the Future Media-verse in Europe", with the aim to discover the latest technology and market trends, identify research and business opportunities, and find partners for upcoming EU-funded calls for projects.